If you remember a piece of information from many months ago, phenomenal. If not; I and a baker's dozen of volunteers were forced to move sites between school years as we were effectively inaccessible during the Liberian rainy season. For me that meant a new home Bopolu City, Gbarpolu County, a county seat of governmental buildings huddled in the bush near the Sierra Leonean border. Only a four hour hop and skip from Monrovia, this new land offered a different window into Liberian life.
The western part of Liberia is really the central part of Liberia in that it's more integrally tied to the urban country capital of Monrovia. The good and the bad. Good because the educational setting and road networks, while still severely disadvantaged, are better serviced. Bad because the hell Liberia has suffered often grades out from Monrovia. The recent civil wars upended life, cumulatively displacing nearly half of all Liberians. Many of my peers in Bopolu spent parts of their childhoods in Guinean or Sierra Leonean refugee camps.
Ebola, a far more fatal disease than present-day COVID-19, exposed a vastly unprepared medical network and led to health workers being seen as harbingers of death. Despite overwhelming visual similarities of green rainforest, dark skin, and rainbow fabrics, the experiences that inform the culture here are quite different than those in the Southeastern reaches of the country. I carried these thoughts into the classroom – less likely to casually ask students about their parents and more likely to classify viruses as living things.
Lay of the land
Religiously, the region is split between Islam and Christianity with remarkable amiability between the two. Most business owners are Islam, often moving to Liberia from neighboring Guinea or southern Mali for the benefits of commanding a larger volume of sales and a more relaxed tax environment.
Food shops dot the main street, where 200 LRD (~1 USD) fetches a chicken dinner. My favorite seller is colloquially referred to as "24-hour" for her round-the-clock service. I did catch her sleeping on the job a time or two… thankfully her kids knew how to keep the oil bubbling.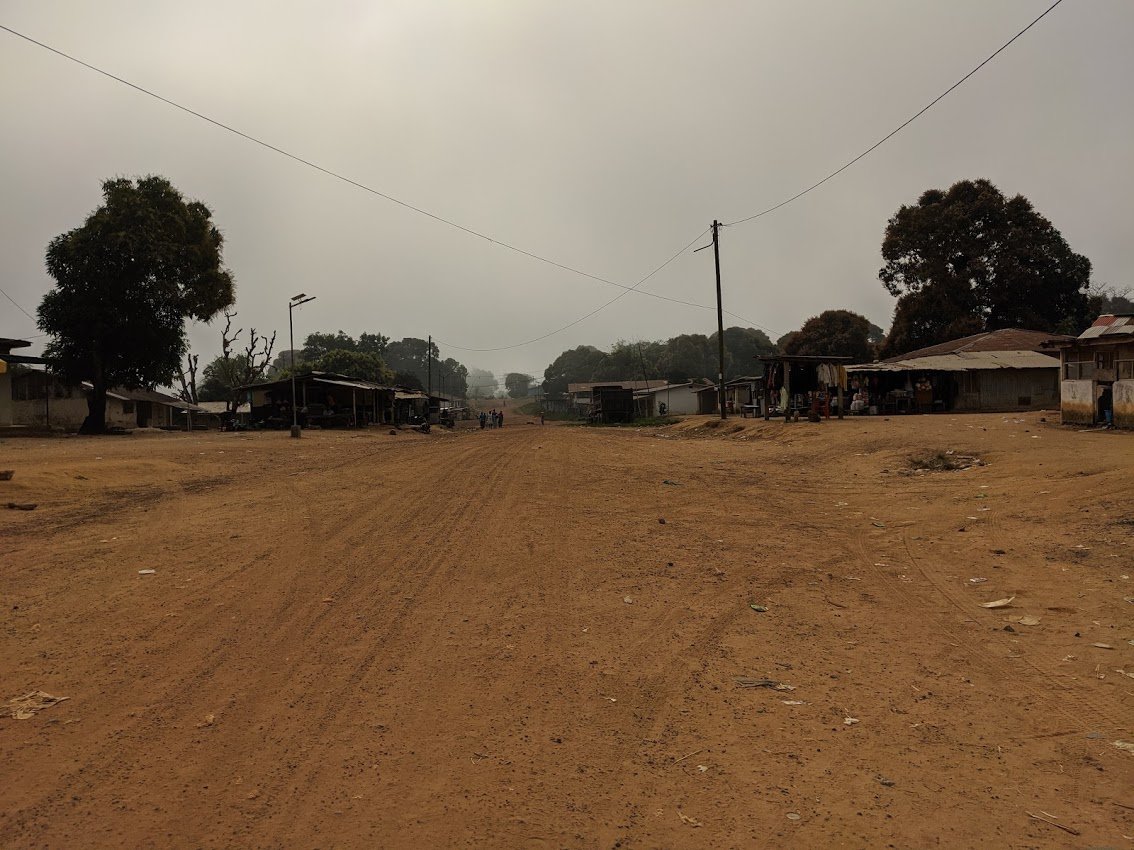 Tea shops are frequented by men talking politics at non-yelling volumes while sipping sugary shot-glasses of concentrated tea. Two video-clubs, both owned by Nigerians, show football (n. – a sport played with a ball and feet) for 75 LRD. Gold-miners from temporary mountain villages come down to the valley to restock, while county officials build guest houses and entertainment centers to host them.
Forming a new form of Volunteer
Enter Kristen Grauer-Gray – our tireless leader. For half-a-decade she trained Liberian teachers on how to bring classrooms to life using local, affordable materials. She wrote the 132-page "Hands-on Liberia" Lab Manual – a de facto Bible of science.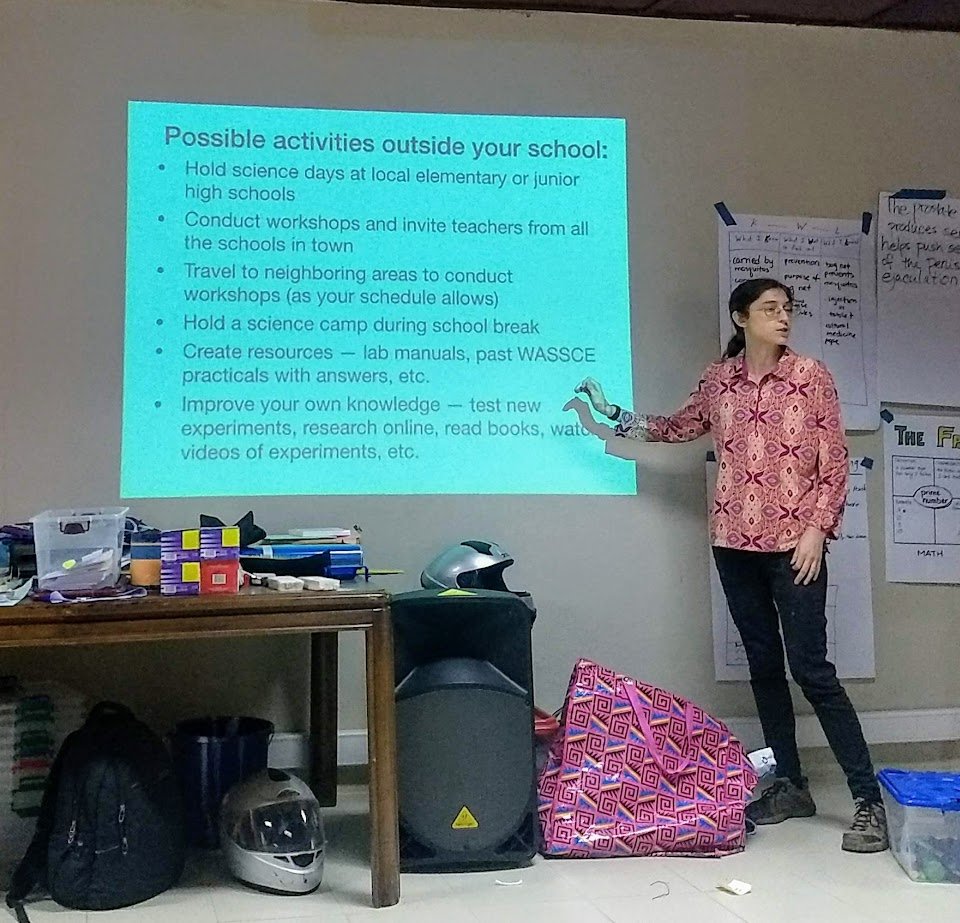 She trained countless teachers, then took it one step further and trained fellow volunteers to train teachers. She once crushed an industrial fuel barrel using atmospheric pressure – very nice! Collaborating with the Ministry of Education, she and others nucleated a new volunteer assignment; Science Lab organizer and instructor.
And what do they do?
Our mission was to revitalize hands-on learning in schools that already had established science laboratories. Most county capitals were fortunate enough to have well-stocked labs, primarily built and stocked through an NGO project in the mid-2000s. They looked nice, and even on paper they are impressive. To me, however, they reflect a major failure of foreign-aid initiatives in the region.
Money flows to the what and not the who. What do schools need and what can we give them instead of whose capacity do we build such that the schools can provide for themselves. Give a man a fish or teach him to fish? Many of these high-end labs became dusty vessels ripe for the looting.
With care, practical know-how, and re-bar-inforcement, these labs could foster intrigue among students who otherwise spent the day in front of one chalkboard. Thomas Varmah, the Chemistry teacher at Bopolu Central High School, recognized this. When I arrived in early September, he surprised me with labeled dilute acids and bases and stories of what worked in years past. Right then I knew he'd be the perfect co-instructor.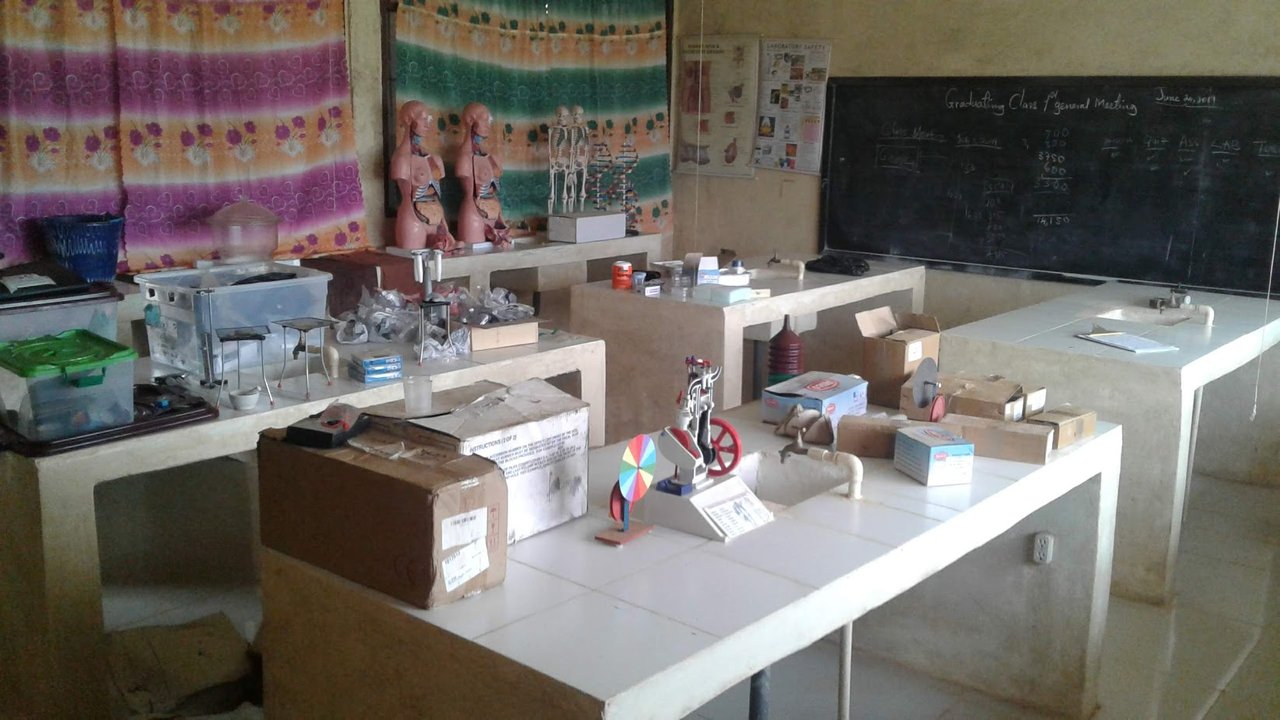 Strong foot forward
Together we bounced from school to school handing out letters and inviting science teachers to attend our Saturday teacher training. We sent out frequency-modulated radio waves at 90.7 Megahertz to recruit educators in surrounding towns (sounds approximately 19-times cooler than "advertised on the radio"). Starting that weekend, the 7-week course covered topics from unit conversion to parallel circuits.
Our primary goal was to answer schools' pleas for guidance on how to teach the "Practical" sections of the West African Secondary School Certificate Examination (WASSCE). This comprehensive test – for which a pass is technically required to graduate high-school in Liberia – expects students to master the use of scientific apparatuses like pipettes and binocular compound microscopes. With only occasional exposure to chalkboard drawings of the sort, this is "practically" impossible.
Our secondary goal – which really acted as a vehicle for the first – was to enable science teachers to make their labs localized, interactive, and replicable. Varmah and I were impressed by the commitment of certain teachers, like Mulbah Massaquio, who showed up early each and every Saturday. At the same time, we were disappointed that others preferred to hit the Palm Wine station early on their days off. Understandable, seeing as many taught at two schools on weekdays just to put rice in the pot.
A sample of another Saturday session's objective is seen here:
Participants will measure the extension of springs with varied applied forces to determine the spring constant using Hooke's law. Successful participants will use coordinate graphing to aid in their discovery. Participants will then observe locally collected plant samples to differentiate between monocotyledons and dicotyledons, then draw a specimen using the WASSCE drawing format.
Putting it to Use
The final Saturday was the participant's first chance to apply what they practiced. In groups of two, they designed and presented lessons on familiar lab experiments to school principals, the county education officer, and a reporter from the Voice of Bopolu frequency-modulating station. We checked in with the trained teachers, observing what portions or ideas they carried back to their classrooms. Young teachers showed the most immediate changes in their style and use of teaching aids. It's hard to know if any lasting impact was made without periodic monitoring. This is one of the more frustrating facets of Peace Corps service – to plant trees under whose shade we may never sit.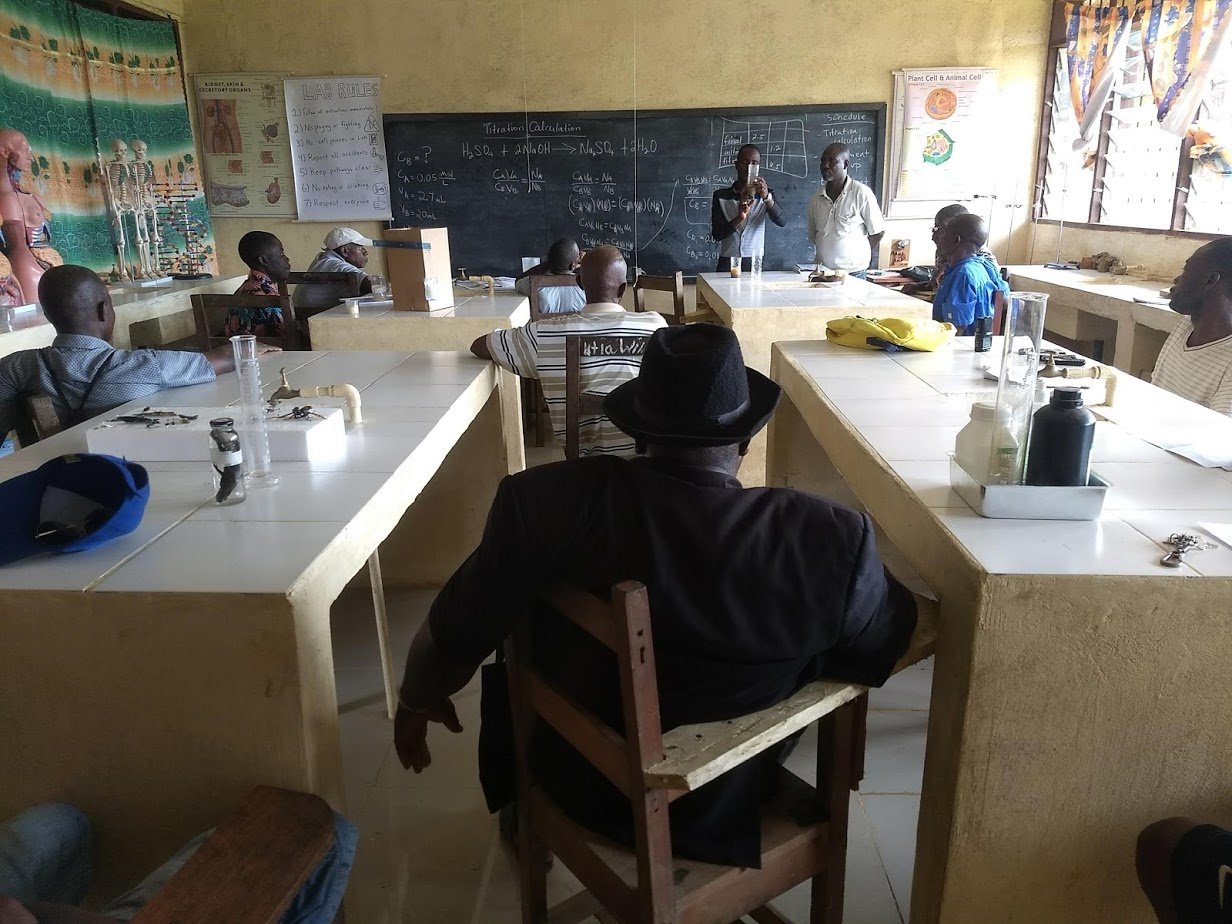 STEM Club with the Youths
Another dedicated group of learners were those in our STEM Club. We met weekly to run experiments, collect atmospheric measurements, and engineer with Legos. In Liberia, every organization must have a motto. And the motto must start with "Motto:". Ours was the brainchild of the precocious Ezekiel T. Doe; "Motto: Our future is in our Hands". Most of the time it was dirt or plastic bricks in his hands, but we got the idea.
Working with the NASA GLOBE program, the STEM club students measured temperature, barometric pressure, and precipitation, uploading the data on GLOBE web interface. Their favorite, perhaps a universal favorite, was Legos. Whether building the tallest wind-resistant tower or strongest load-bearing bridge, their ears were split by smiles.
The Liberian Banking Crisis
Peace Corps withdrew all their volunteers worldwide some weeks back. This is a first in history, and the trajectory of the Peace Corps is uncertain especially as governments cut foreign expenditures to support domestic recovery. Most of us in Liberia left in December, however, long before concerns about COVID-19 shook the world. The issue was quite different; in the rainiest capital city in the world, the banks were dry. Amorphous blobs of frustrated clientele waited all day, only able to withdraw $10 USD when they managed to accost the teller.
Civil servants, nurses, and teachers hadn't taken pay for up to four months. Local banks and central government employees assured they were fixing things. Forced to borrow from friends and shop owners, teachers "put down the chalk" and classes ceased for weeks. Students, the biggest losers in this game, swapped their white button-downs for muddy farming shirts. Those who did show up searching for a semblance of school played quiz bowl with each other for a couple of hours then returned home.
Circumstances confound
Volunteers who ran out of money had to leave their sites for several days to travel to a bank that was reported to have money, often showing up to hear the liquid dollars finished just hours ago. Peace Corps expects some level of uncertainty, but this problem didn't appear to be resolving anytime soon. After an impromptu all-volunteer meeting, they released this message; "Over the past year, Liberia's economy has faced a number of challenges, including the inability to reliably obtain needed funds from banks. Out of an abundance of caution, the Peace Corps has made the decision to reduce the footprint of volunteers in Liberia in order to better support them."
That weekend was full of tears and denial. Was it really necessary? Most of us had strategic reserves or at the very least could have asked neighbors to cover us until things stabilized. And what about the communities we would leave behind? They couldn't simply get up and move away from the problem. Frustration permeated every conversation. Even more palpable, though, were the connections that volunteers had made with Liberia in the months or years they spent there.
Sharing families
My family and I returned to Liberia in February. Ma, Pa, Dr. H, and Dr. Le, as they were so lovingly referred to. They had long planned to visit me and airfare was locked in. We went ahead with the trip, no longer under the guise of Peace Corps. After one night of warming up in Monrovia, we took dusty northwest road to Bopolu. The checkpoints, where officers dress in a variety of non-descript uniforms and ask for "cold water" before one can cross the rope gate, were less accommodating than normal. Before, a flash of the Peace Corps ID worked wonders. Now, no longer an official volunteer, some longer explanations were in order.
We made it to Bopolu, our faces dustily imprinted with negatives of sunglasses. Mr. Kamara, the high school dean of students, offered us a home to stay in. His children ran up to hug us as we wobblily dismounted the motorbikes. The next several days were spent catching up, visiting campus, and playing frisbee games by evening. We trekked to Mr. Kamara's farm and dug for yams and cassava. Some children accompanied us, masterfully crossing stick bridges in flip-flops.
Revisiting the Southeast
We passed back through Monrovia before flying southeast to visit my original site. Daniel, AKA Dr. H, quickly stepped up to ride co-pilot. We landed and walked down the road looking for a kehkeh (n. – small, covered 3-wheeled transportation vehicle), but all of them were out of town. Instead, we resorted to the omnipresent motorbike, zipping to Pleebo where we had to refuel, one of our bikes getting a boot for parking at an angle to the curb. Any foreigner screams money, and some locals (although relatively few in Liberia) attempt extortionary ploys to buttress their minimal hourly pay. Bribery, a rose by any other name, is an accepted routine. It takes less direct routes with foreigners and can almost always be avoided with the right logic. This time, after about 30 minutes of our driver shouting, we got off the hook.
A warm welcome
In a couple of hours, we reached the first village I lived in. As we pulled up to my old house, throngs of children ran behind our motorbikes shouting "Mr. H". Filled with elation and covered in little hands, I introduced them to my family.  The children who cried when they first saw the likes of "white man" now embraced several novel ones. I expected to see older, different faces, but they all looked the same. The 12-year-old still ordered around the 5-year-old who still dragged around the 3-year-old.
We set our things down and scurried over to the mayor's house, where the clan chief and other head figures gave us the traditional Grebo welcome: Kola nut and Cane Rum. When asked to state our mission, I told that I was back to share my two respective families, biological and societal. Heads poked in every window, blocking out the sunlight as my biological half shared their appreciation for the welcome.
Each day brought us to several more Kola nut ceremonies, whether to welcome us to an individual family, the school, or the townspeople. We spent time, though never enough, with old friends like Ma Sue, grandmother of little Angel. S Cotee Jeh, the leading voice in town. James Collins, my cabbage farming friend who works harder than the heat. Uncle Augustus Y Dibleh, a thoughtful man who went blind just before finishing university. Ben, the school registrar and one of the only people from the town who I can keep up with through WhatsApp. Even with the week we spent there, I could not introduce my folks to everyone.
Escapades
Dr. T, my brother's girlfriend Trang, captured the attention of many scurrilous youths. She taught them the Chicken Song, Do Re Mi, and several similarly savory sing-alongs. She also taught them a few Taekwondo basics, feeding into their love of martial arts derived from bootlegged Karate DVDs.
That Saturday we had an educational day for high-school seniors and juniors, working with them on a mix of academic and non-academic subjects. Dr. H – brother Daniel – taught useful knot-tying tricks. Dr. T taught math based on what she saw in students' notebooks. Ma taught hand massage, and Pa opened the floor for questions.
Later that day, Daniel and I were set-up to visit the island off the coast. Iudotrehn. My brother, still considered a stranger to the customs, needed special permission. The clan chief gave us the go-ahead, but ultimately, we had to ask the Sea Commander, a man who reads the tides and grants access to the sacred area. We brought our liquid offering, took some in, and set off in the dugout canoe. Barnacles, sea cucumbers, and sea urchins covered the different surf zones, turning into a maritime snack for those on the island.
Sunday brought us to church. Liberians are always surprised to learn that Americans, who they assume are all good and righteous, infrequently attend services. Seeing as it is perhaps the most organized, regular institution in this area, I saw it right to bring my family. Church bells rang at 10:30, so we waited to go until 11:00. Apparently, we were still an hour early… should've known. We sang and danced, my mother reliving her youth one hymn at a time.
After service we went to my good friend Emmanuel Sieh's to sympathize with his family, who lost their father a few weeks prior. The Methodist church was already there celebrating his life with men beating the drums and women shaking the saa saa (n. – calabash gourd dressed with beaded strings to serve as a shaker) and dancing in a line. Formalities are a must, so I made an open statement to the family expressing our condolences. The family thanked us and invited us to join in the dance, to which we responded with gyration.
I asked those who visited Liberia with me to share some of their thoughts, as their perspectives developed along a different timeline. Here they are, in imparticular order:
Dr. T (Trang Le)
Liberia brought me many surprises, but the most unexpected was how much the village reminded me of my own home town. Just like Vung Tau (Vũng Tàu), the village has the almond trees (cây bàng), the fish, the ocean, the smiles, and the warmth. Or perhaps it was the worry-free, stress-free, haste-free time that I spent there, mostly playing with the wonderfully jubilant children that brought me back to my childhood. Who knows, if these children encounter the chicken dance again at some point in the future, it may make them nostalgic for their childhood too.
Dr. H (Brother Daniel)
We were in the city of Bopolu. Mr. Kamara had graciously provided our family with a house to stay for our visit. Nearby there was a communal pump. While many pumps in town had run dry or yielded contaminated water, rumor had it that this pump produced some of the sweetest water around. Locals drink this water unfiltered (although some seasoned locals also drink from the river downstream of the city).
With its amazing water, there was usually a line of women and children waiting to use the pump. Children would congregate, as the pump served as a spot to gather and socialize. That morning I approached the pump with hesitation. I didn't want to cut everyone in line (line is figurative here as there was no formation to the crowd).
The locals were filling up large receptacles and bowls, but I approached only with my water bottle. As I arrived to the scene, a little girl ended the awkwardness by grabbing my water bottle. I barely had time to unscrew the filter before she proceeded to take it to the front of the queue, helping me without even thinking to ask.
Daniels Full reddit post here.
Ma Rebecca (Mother Becky)
Most food is grown locally and homes are mostly built from readily available local products that require little transport. Supporting beams are bamboo, laced together with reeds of grass. Some roofs are tin, but others are made from broad leaves supported by stiff stems. Their soil is used to make two grades of cement – one to go between the bamboo beams and a finer, adobe-like grade for finishing the exterior. Lumber for doors and furniture is cut with hand saws.
The village people are very self-sufficient and word of mouth tends to be the main means of communication. The well is a common spot to talk and tends to have activity almost every hour of the day. The school dean in Bopolu said he knows almost every non-transient person in the city of 8,000 people. Pretty amazing! In this way, life in Liberia seems more community-like and self-contained than life in America.
Pa pa (Father Marty)
The children of Garraway. Shining eyes. White teeth and expansive smiles. Girls with colorful dresses and intricate braids. Cheerful, always willing to help: water in large pails perfectly balanced on their heads, laundry, cooking, an eight-year-old carrying an infant on her hip. Poor? Who's poor? We have water from the well, roofs that keep us dry in the rainy season, chores that keep Garraway running, time to spend with each other.
Mr. Dibleh, sightless since his twenties, walking Garraway's rutted roads alone. Giving the Sunday sermon at church to an attentive audience. Poor and blind. How does that produce joy?
The town elders formally welcome us: shared roasted pine nuts, hot pepper sauce, fermented sugar cane, and speeches. Genuine appreciation for Josh's work when he was in Garraway and even more appreciative astonishment that he kept his word and came back as scheduled with his family. Some memories fade, some remain, some change you.
An end, but not THE end
Introducing one family to another was rejuvenating – I saw every interaction, custom, and scene in a new way. Or perhaps the same way I had once seen things. Customs that started making sense to me confused my American family. I had to translate in both directions despite English being our common language. Liberians looked confused that a woman as young as Trang had already become a doctor. There was so much to read into that no writing could ever encompass.
But pictures are worth a thousand words. So we can get pretty close.